Twenty amateur Latin American players from the League of Legends take part in this ambitious 12-week project, in which they face different challenges and only five will be the winners. The first elimination show will be broadcast on ESPN on Friday, September 27th at 11:30 p.m. ARG / CHI / URU 10:30 p.m. BOL / PAR / VEN 21:30 p.m. COL / ECU / MEX / PER. The staff will include a truly Latin American team made up of Argentinian Juan Marconi as host and Chilean Tommy Pervan as co-host, plus the special guest appearance by Fabricio Oberto.
ESPN plunges into the universe of eSports, the global trend of electronic sports, with the new ESPN CHALLENGE: Road to League of Legends, sponsored by Gillette, a cross-platform reality show for amateur players who dream of becoming professionals. The show is produced in Buenos Aires by Mandarina Televisión and it was first aired on Monday, September 23rd in streaming, while the television special show for the entire region will air on the evening of Friday 27th September. From Monday to Thursday, the daily activity and training of participants is broadcast live via streaming at 3:00 p.m. ARG / CHI / URU 2:00 p.m. BOL / PAR / VEN 1:00 p.m. COL / ECU / MEX / PER (approximately two hours a day) on Twitch channel of ESPN Fans and online by ESPN.com (https://www.espn.com.ar/esports/).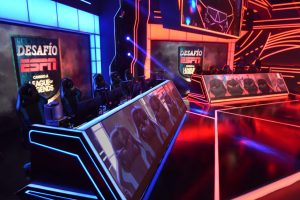 Twenty amateur players live together and are trained by coaches with the aim of improving their sports skills. The winners will receive an award that will bring them closer to the dream of becoming an eSports professional, as well as US$10,000 in prize money in addition to the possibility of being chosen by one of the great teams of Latin American eSports. Participants will receive the support of a physical trainer, a psychologist and a nutritionist as is the case with traditional sports.
Juan Marconi (former host of ESPN #Redes and former staff member of Pura Quimica) together with the renowned caster Tommy Pervan- from the eSports scene- will be hosting the show. There will also be special appearances by Argentinian sports star and former international basketball player and lover of eSports Fabricio Oberto.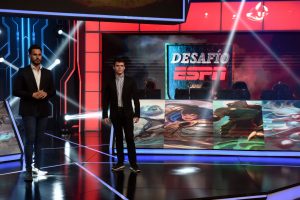 The rest of the staff is composed of:
Coach 1: Gerson "Dye" Castaño (Colombian, Rainbow7 team)
Coach 2: Carlos "Akari" Calderón (Mexican, Infinity eSports team)
Commentator, play-by-play Caster: Santiago "Zombyra" Apesteguy (Argentine)
Commentator, Color Caster: Camila "Chunilda" Benavides (Chilean)
Jury 1: Francisco "Frankkaster" Postiglione (Argentino) CEO 9z
Jury 2: Eduardo "Skin" Saldaña (Mexican) Coach XTen
Jury 3: Rodrigo "Onur" Dalmagro (Argentine) Coach Furious Gaming
As for the 20 participants, there will be 5 Argentinians, 3 Mexicans, 3 Chileans, 3 Colombians, 2 Peruvians, 2 Uruguayans, 1 Venezuelan and 1 Panamanian. In total: 14 men and 6 women (2 Argentinian, 2 Uruguayan, 1 Chilean and 1 Colombian). See full listing below:
● Valentina Despaux "KKAFI" from Uruguay
● Natalia Robolledo "JUNGLERITA" from Uruguay
● Mauricio Vargas "FER" from Mexico
● Alexis Amaro Romero "LESHIN" from Mexico
● Cesar Valle "CESAR" from Mexico
● Luján Benítez "LU" from Argentina
● Belén Moine "PINKU" from Argentina
● Bartolomé Agustín Balaguer "TANGRAM" from Argentina
● Alan Marticorena "ALAN" from Argentina
● Franco Petrozzelli «PETRO» from Argentina
● Benjamin Alexander Llao Cheung «BENJA» from Panama
● Manuel Marín "MANOLITO" from Chile
● Daniela Arroyo Gatica "NANIE" from Chile
● Mauricio Farías "MEÑO" from Chile
● Winder Sousa "CANILLA" of Venezuela
Gabriel Jefferson Salazar Cáceres "JEEEF" from Peru
● Deyvis Palomino "DAVIS" from Peru
● Juan Camilo Gutiérrez Labrada "MILO" from Colombia
● Adriana Duarte "ROSE" from Colombia
● Marco Antonio Arias Echanove "TONI" from Colombia
League of Legends is the most popular PC game in the world, developed by Riot Games, in which two teams of five participants challenge one another to destroy the base of the rival team in order to win the game. Ninety -minute episodes will be broadcast as of Friday September 27th for twelve Fridays in a row. These episodes will contain the eliminations special shows in which the 10 players with the lowest performance of the week will take part. Two teams will face each other in a game and the winning team will continue in the competition while a participant of the losing team will be eliminated by decision of the three juries, with the help of the coaches, who will daily evaluate the participants` competitive progress and development. The reality show ESPN Challenge: Road to League of Legends, sponsored by Gillette will have a transmedia format, which will also provide content for different ESPN signals both on broadcast and digital television as well as on social networks.
Join the conversation: #LeagueofLegends will have a reality show in Latin America #CaminoLOL on ESPN
About ESPN Latin America
________________________________________________________________________
ESPN has been broadcasting sports-related programming in Latin America as well as the Caribbean for 30 years, reaching all of the Spanish and Portuguese-speaking countries and territories with 4 television networks available 24 hours a day, 7 days a week (ESPN, ESPN +, ESPN2 & ESPN3) and two occasional networks for events ESPN 4K and ESPN Extra events, all of which with their corresponding streaming service through ESPN Play.
The company generates local content for all its platforms, including digital (ESPN Play, ESPN.com) and mobile (ESPN App). SportsCenter is the flagship newscast, which has broadcast more than 30 weekly live editions for almost 20 years. ESPN, through its main platforms and locally produced programs, provides the sports fan in the region with a wide range of information and relevant entertainment.
About Mandarina Televisión
________________________________________________________________________
Mandarina Television is a 100% independent television production company. It was founded in 2005 with the purpose of developing, producing and distributing audiovisual formats for both local as well as for international television networks
Relying on great expertise in television, it also provides audiovisual and digital production services to companies and advertising agencies. Some of the most accomplished and well -known TV hosts, performers and journalists are part of Mandarina, and It is also constantly searching for the best «influencers». Mandarina's commitment to new projects is clearly shown in every step of its creative expansion and development , becoming fully involved in the world of gamers and the eSports trend shaping the future of media
About Riot Games
________________________________________________________________________
Brandon Beck and Marc Merrill launched Riot Games in 2006 with the purpose of changing the way video games were created and of developing support games for players. In 2009, Riot released their first game, the worldwide acclaimed League of Legends. Since then, the popularity of the game has constantly grown becoming the most popular PC game in the world and a key driver of the explosive growth of the eSports industry. Players are the foundation of their community, and it's for them that they continue to evolve the League of Legends experience. The Riot Games headquarters is located in Los Angeles, California, and has 23 offices worldwide.