IT'S OFFICIAL: «EL AMOR DESPUES DEL AMOR» DECLARED OF CULTURAL INTEREST OF THE AUTONOMOUS CITY OF BUENOS AIRES.
The City´s Legislative Body declared Fito Páez´s life series of Cultural Interest.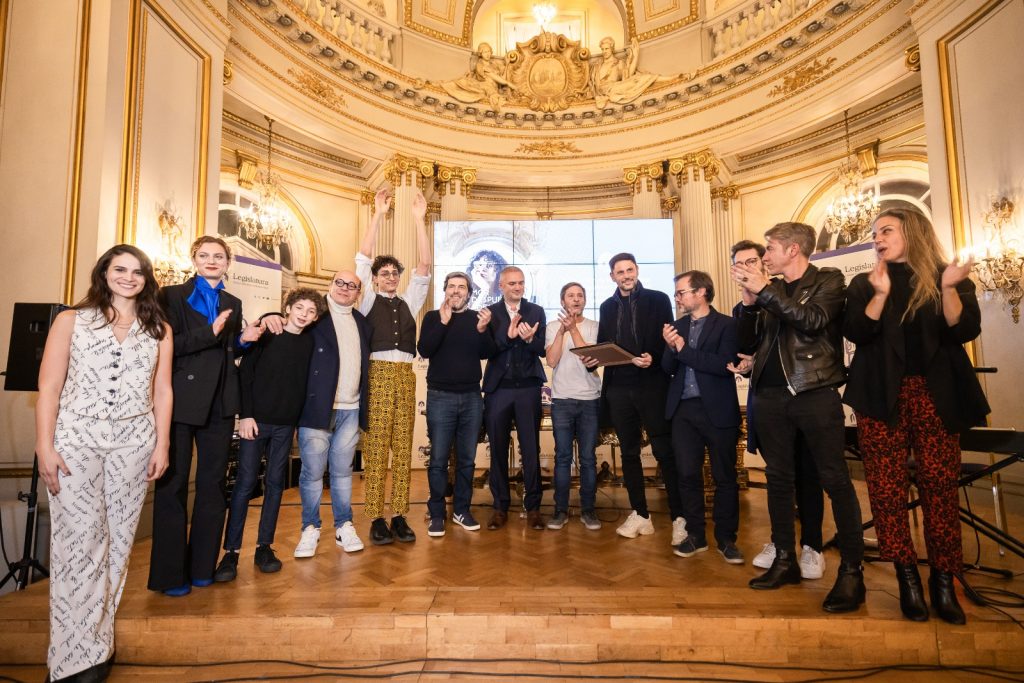 In the middle of the rage and success of the biopic, released on April 26th on Netflix, and produced by Mandarina Contenidos, a project was presented to Buenos Aires Legislature to declare it of cultural interest to the Autonomous City of Buenos Aires.
The ceremony took place on the afternoon of Wednesday June 28th in Golden Hall of the Buenos Aires Legislature with a large presence of the production team, cast, Netflix authorities, Mandarina Contenidos. Likewise, the presence of Deputies: Manuel Socías, Juan Manuel Valdez, Matías Lopez, Buenos Aires City Minister of Culture Enrique Avogadro, and authorities of the Ministry of Culture of the Nation.
Mariano Chihade, CEO of Mandarina and executive producer, together with Juan Pablo Kolodziej as Showrunner and executive producer, were in charge of leading the act on stage with the company of Manuel Socías, deputy responsible for the presentation of the project unanimously approved by Buenos Aires Legislature.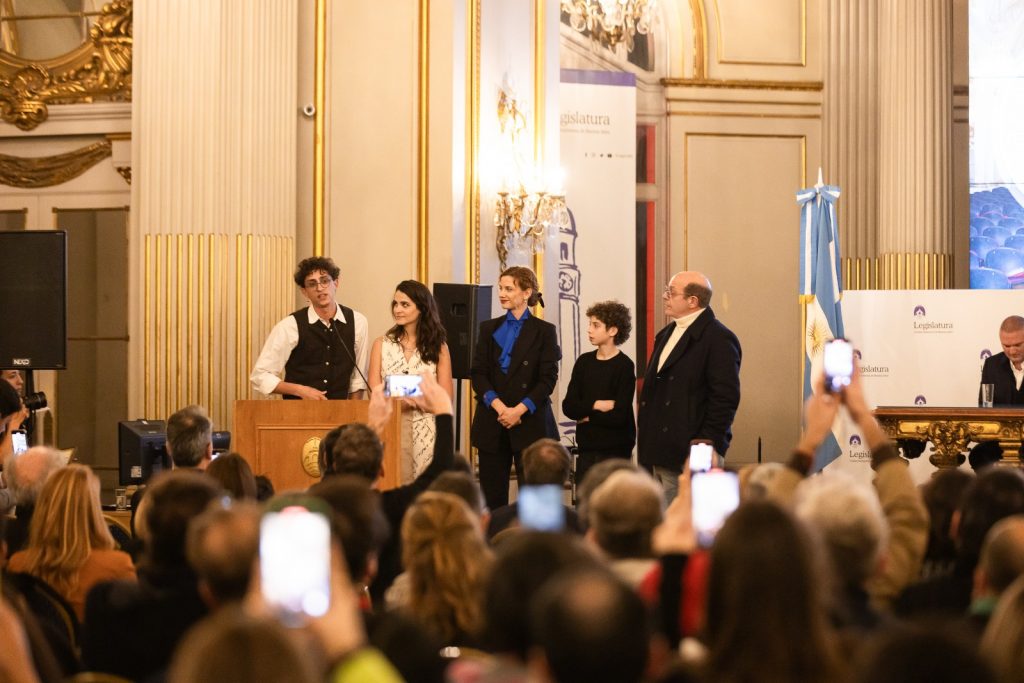 "It´s important to us to recognize this series that not only tells us the story of a great artist like Fito Paez, but also immerses us in the landscape of the 80´s: the persecution, dictatorial suffocation and the opening to democracy. Rock music is the soundtrack of our democracy. This distinction also implies highlighting the product of our audiovisual industry in the City of Buenos Aires, a generator of value and work for both technicians and artists", said Manuel Socías, Deputy of the City of Buenos Aires, author of the project.
"Thanks to Netflix for joining this adventure, to Fito Páez for trusting in how we could tell his story, to all the extraordinary team that made the series so wonderful. It costs a lot to make a fiction in Argentina and it was worth it. I want to thank Manuel for the initiative, all the legislators and our Legislature", said Mariano Chihade.
Juan Pablo Kolodziej added: "Fito always opened up to tell this story without reserving anything and that allowed us to make the series that was seen. The team was key and they did an excellent job, the support of a company like Netflix is to stand out. There are new generations that are getting to know these artists and the contribution of Netflix was key for having accompanied this story that was very risky but even more inspiring for our culture".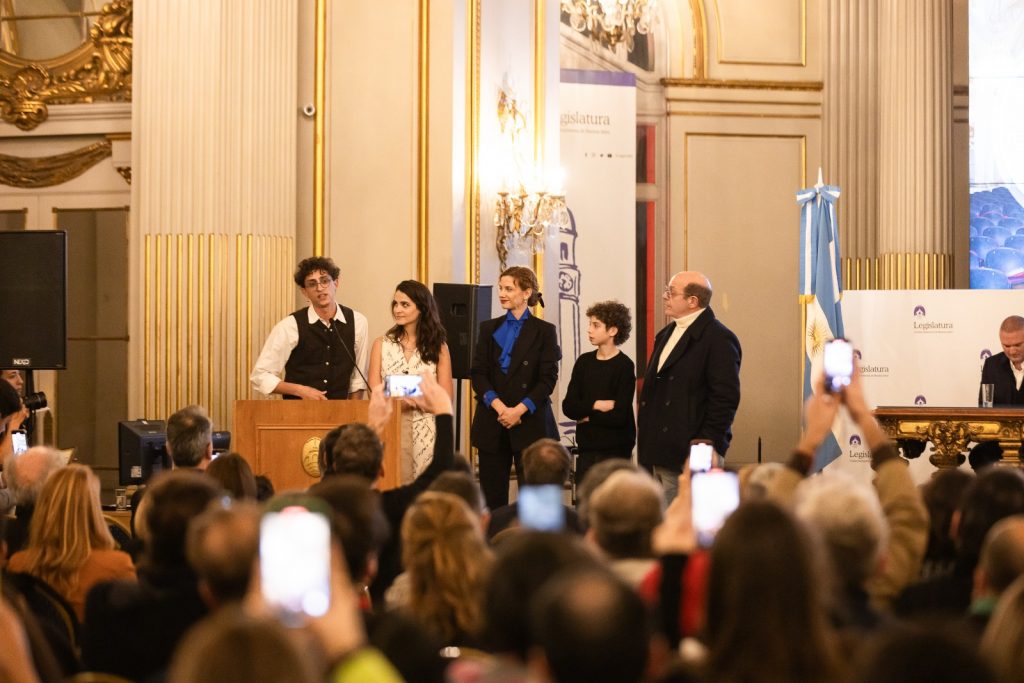 In the first row were the protagonists; Iván Hochman (Fito Páez), Gaspar Offenhenden (Fito child), Micaela Riera (Fabiana Cantilo), Andy Chango (Charly García), Daryna Butryk (Cecicilia Roth), Joaquín Baglietto (Juan Carlos Baglietto), Martín Campilongo (Rodolfo Páez); who had the opportunity to share their emotion and gratitude for the recognition : "We tell the story of Fito but also the one of a Country. This recognition reflects that, it fills us with pride and shock. I always remember that while I was putting myself in Fito's shoes I read a phrase from him that exactly reflects this moment: «If they applaud me, they applaud you,» concluded the protagonist of «El amor después del amor» Iván Hochman .
Then the directors Felipe Gómez Aparicio and Gonzalo Tobal, together with the Production Director Mariana Bachiller, were present on stage.
To close the event and receive the recognition diploma, Agustín Britos; who gave voice to Fito Páez in the series, was in charge of closing the ceremony singing «Te vi».
The project was presented by deputy MANUEL SOCÍAS, accompanied by deputies María Bielli, Lucía Cámpora, Claudio Ferreño, María Cecilia Ferrero, Matías López, Victoria Montenegro, Juan Manuel Valdés and Franco Vitali.
On April 26, the popular streaming platform Netflix released globaly the series «El amor después del amor». With 8 episodes, this intimate biographical series details the life and career of Fito Páez, one of Argentina's most important artists, and his musical journey alongside rock icons such as Charly García, Fabiana Cantilo, Luis Alberto Spinetta, Juan Carlos Baglietto, and many more.
The series, homonymous to the seventh album that Fito released in 1992, was produced by Mandarina Contenidos with the executive production of MARIANO CHIHADE and JUAN PABLO KOLODZIEJ.
A few days after its premiere were enough for this magnificent audiovisual production to be on everyone's lips, being a recurring theme on social networks and the conversations of all Argentines. The biopic has a fine art direction and production design that manages to recreate the time and spaces in which Fito Páez's career developed, allowing viewers to immerse in the atmosphere of that time and learn more about the story of a fundamental part of our national rock.
Fito is one of the most outstanding and beloved cultural icons of Argentina. His career spans more than 4 decades as a musician, composer and singer; a work made up of more than 27 studio albums, live albums, hundreds of collaborations with the most varied Argentine and foreign artists; in addition to 3 films that he signs as a director and screenwriter and 3 books of his authorship. His work stands out for its poetic lyrics and his ability to explore various musical genres, from rock to folklore, tango and jazz. He is undoubtedly a prolific artist who has contributed to our culture from the different branches of art.
The series offers a unique opportunity to learn about the life and work of this outstanding artist and to understand his relevance in Argentine and Latin American culture, through a production of superlative quality, with the standars of any international production. It is necessary to highlight the recognition of the technicians, teams and all who gave shape and life to this extraordinary production.
"El amor después del amor" is produced by Mandarina Contenidos, with Mariano Chihade and Juan Pablo Kolodziej as executive producers and directed by Felipe Gómez Aparicio and Gonzalo Tobal.
The cast includes figures such as Iván Hochman in the role of Fito Páez (and Gaspar Offenhenden as a boy Fito), Micaela Riera as Fabiana Cantilo, Andy Chango as Charly García, Daryna Butryk as Cecicilia Roth, Julián Kartún as Flaco Spinetta, Javier Purple as Andrés Calamaro, Joaquín Baglietto in the place of his own father Juan Carlos Baglietto, Martín Campilongo as Rodolfo Páez; in addition to Manuel Fanego, and Jean Pierre Noher, among others.