Netflix premiers today NO TIME FOR SHAME
No time for shame is a six-episode reality series that follows the life and work of Argentine couture fashion designer Santiago Artemis, featuring celebrities such as Xuxa, Ángela Torres, Pampita, Oriana Sabatini, Nicole Neumann and Pablo Lescano.
Worldwide known as designer, fashionista and influencer, Santiago will let us into his most human side throughout the series as well as his life journey from his childhood in Ushuaia to becoming the fashion dynamo he is today. It is an extraordinary success story of overcoming adversity through which he always stayed true to his style and to the person he has chosen to be.
Santiago Artemis, at only 27 years old, has already become one of the favorite designers of some of the biggest celebrities:Katy Perry, Britney Spears, the Olympic athlete Jenny Dahlgren and Lali Espósito are just a few of the many stars who have worn his outfits among many others.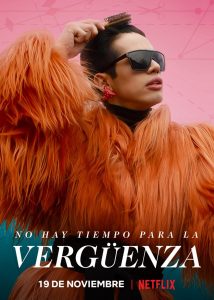 Synopsis
________________________________________________________________________
No Time for Shame follows the day-to-day life of the couture fashion designer, Santiago Artemis, who faces a great challenge at only 27 : creating a new collection that turns heads, conveys enthusiasm and positions Artemis as «the voice of the millennial generation». Through a first person account of the life and work of the eccentric Argentine fashion expert, we will be able to have a glimpse at his long hectic days full of clothes- fitting sessions in his atelier design house as well as his many sketches, trips and meetings with celebrities such as Angela Torres, Pampita, Xuxa, Oriana Sabatini, Nicole Neumann and Pablo Lescano.This is Artemis's world and no one can stop him.
PRODUCERS: Federico Wollkopf, Juan Pablo Pichetto
EXECUTIVE PRODUCER: Federico Wollkopf
GENERAL DIRECTOR: Mariano Chihade, Maria Cella
DIRECTOR: Pablo Romeo
CAST: Santiago Artemis
GUEST STARS: Angela Torres, Pampita, Xuxa, Pablo Lescano, Oriana Sabatini, Nicole Neumann
PRODUCED BY: MANDARINA
FILMED IN: Buenos Aires, Ushuaia, Rio de Janeiro
Available on Netflix since November 19.
About Netflix
________________________________________________________________________
Netflix is the leading subscription-based streaming service in the world. As of April 2019, Netflix had over 148 million paid subscriptions worldwide, and over 154 million subscriptions total in over 190 countries. Its subscribers enjoy TV series, documentaries and movies of a variety of genres and languages. Netflix members can watch whatever they want, whenever they want to, on almost any screen connected to the Internet, and they can also play, pause and watch content, completely ads -free.